For our 4th anniversary, Mayren and I chose to eat at the most romantic restaurant in Metro Manila - Ninyo Fusion Cuisine & Wine Lounge. Ninyo offered a quiet getaway from the crowded places and introduced us to a "Zen" and private dining experience perfect for our small yet special celebration.
Operating Hours: 11am-2pm; 6pm-10pm

Address:

66 Esteban Abada Street,

Loyola Heights

, Quezon City

Price for two: PHP 3,500 and up

Contact Numbers: (02)4260302; +639175807928

Reservations are highly recommended
Ninyo Fusion Cuisine & Wine Lounge is located at the heart of Quezon City. Even though it's located in the metro, the venue is quite spacious and even has private (and free) parking. Customers have the option to dine indoor or at the gazebos. However, to be able to dine at the gazebos, reservations are to be made. If you're interested, just call the contact numbers I've mentioned above. :)
As soon as we entered, we felt like we were entering a spa. The first thing I saw was a little koi pond. Then there were the gazebos with white curtains separating each one from the other. The staff greeted us and asked immediately if we were celebrating a birthday or anniversary. Awesomely, we were the only customers reserved for the gazebos. The waiter showed us our table decorated with candles and red rose petals.
Our package for two is the Degustation Paris. The whole package is a 5-course meal with wine, which costs PHP 2,990 excluding the service charge. The complete menu from Zomato is shown below.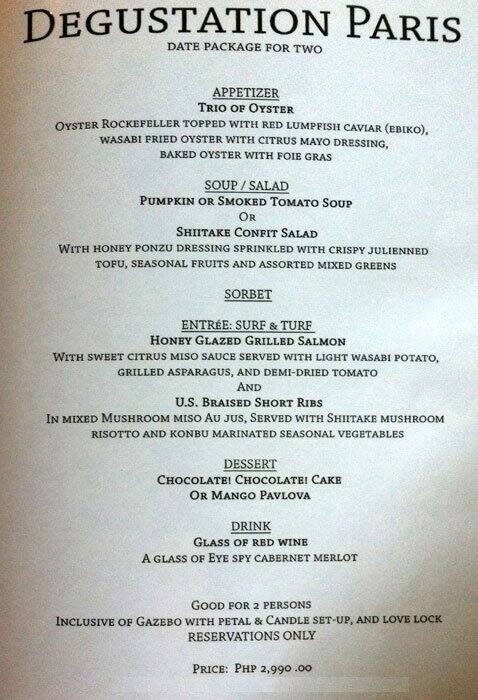 The wine was served first. I liked it at first but after a while, I got dizzy (such a loser, I know). And, Mayren will be driving anyway so we didn't request for a refill.
For our appetizers, we had the Trio of Oyster, which consisted of Baked, Wasabi Fried, and Rockefeller. I loved all of them! Way to go, Ninyo! My favorite was the Rockefeller which had a chewy soft texture for it was full of cheese. The fried and baked oysters weren't far behind either, the oysters were carefully tucked in with flavor varieties that will make you just go "Mmmmmm…" (I literally did that, HAHA).
Trio of Oyster
For the second course, you have the option to choose the Pumpkin Soup or the Shitake Confit Salad. I chose the soup and the salad for Mayren (he said he was cutting on his cholesterol, LOL). The soup was placed on a small cup with spices and croutons. It was delicious but I wish the bread was not that moist. The salad was phenomenal, everything was fresh and flavorful. The sauce was kind of sweet and sour, which made me wish I ordered the salad as well.
Pumpkin Soup
Shitake Confit Salad
Afterwards, the sorbet was served. To those who are not familiar with this, its purpose is to cleanse your palettes and ready your taste buds for the main course.
For the entrée, two dishes were served. The (1) Honey Glazed Grilled Salmon and (2) U.S. Braised Short Ribs. We both enjoyed the salmon, it tasted so good! The texture, flavor, and proportion were just perfect. It goes well with the mashed potato. The beef was great, too. It was tender and the sauce is incredible. We just didn't like the rice that went with it, it's kind of heavy and wet. By that time, we were unbelievably full.
Honey Glazed Grilled Salmon and U.S. Braised Short Ribs
For dessert, we chose to have both options which were the
Chocolate! Chocolate!
Cake and the Mango
Pavlova
. The chocolate cake was a chiffon type of dessert poured with dark chocolate on top. I very much enjoyed the mango dessert for it was not that heavy to take in, after the entrée. It's made of egg whites, with mango slices beside it. The meringue reminded me of Braso de Mercedes which I really liked. It's a great flavor to end a lovely dinner.
Mango
Pavlova
Chocolate! Chocolate!
Cake
After the meal, the waiter gave us a love lock to put on their cute little portion of a love lock venue wherein people put their names or initials for good luck and happy wishes. Then the key to it was tossed in the little pond for forever love (#MayForever hahaha).
Overall, Mayren and I had a lovely time. Ninyo Fusion Cuisine & Wine Lounge is definitely a one of a kind restaurant in the metro which is perfect for couples having their anniversaries.
| | |
| --- | --- |
| Pocket-Friendly | ♥♥♥ |
| Quality & Taste | ♥♥♥♥♥ |
| Service | ♥♥♥♥♥ |
| Instagrammable | ♥♥♥♥♥ |
Degustation Paris

package is highly recommended!